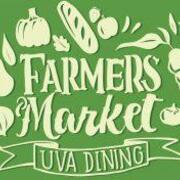 Come for featured Cville vendors!

November 15th; Amphitheater
Celebrate UVA Sustainability Days with a Zero Waste Farmers Market! UVA Dining and UVA Office for Sustainability are joining forces for an interactive sustainability celebration (the fall edition of Earth Week!) so come out for a Recylemania event to repurpose old clothes, and pick up some local treats from Charlottesville vendors. 
Part of UVA Sustainability Days - see the full schedule at sustainability.virginia.edu.