CHARLOTTESVILLE FOOD ACCESS AVENUES DURING COVID-19
The Haven offers free bagged lunches from 12-1 Monday through Thursday to food-insecure members of the community during Covid-19. Learn more here.
The Salvation Army on Cherry Avenue offers free bagged lunch from 12-1 Friday through Sunday to food-insecure members of the community during Covid-19. Learn more here.
​Loaves and Fishes Food Pantry offers grocery carts of pre-packed groceries free or charge for food-insecure members of the community on Wednesdays from 2 to 4 pm, Thursdays from 6:30 to 8:30 pm, and Saturdays from 10 am to 12 pm. Learn more here.
The Emergency Food Network, which services Charlottesville and Albemarle County, will provide a free three-day supply of food to families in need on Mondays and Fridays, if you call (434) 979-9180 between 9 am and noon on a Monday or Friday. Learn more here.
Meals on Wheels delivers free meals to your front door during lunchtime between Monday and Friday. You can sign up to be a client here.
The Supplemental Nutrition Assistance Program (SNAP) offers price reductions in nutritious food for low-income members of the community, and the benefits are expanding amid Covid-19. Find out more info about how to apply here.
Charlottesville City Schools is offering free breakfast and lunch meal delivery to students on Mondays and Wednesdays from 11 am to noon. Learn more here.
Cultivate Charlottesville has created a text service that will direct you to free, local food resources based off of your zip code. Text "FOOD" for English or "COMIDA for Spanish to (844) 947- 6518 and follow the prompts for information on available food pantries and other resources in the City of Charlottesville and surrounding counties. 
UVA FOOD PANTRY LOCATIONS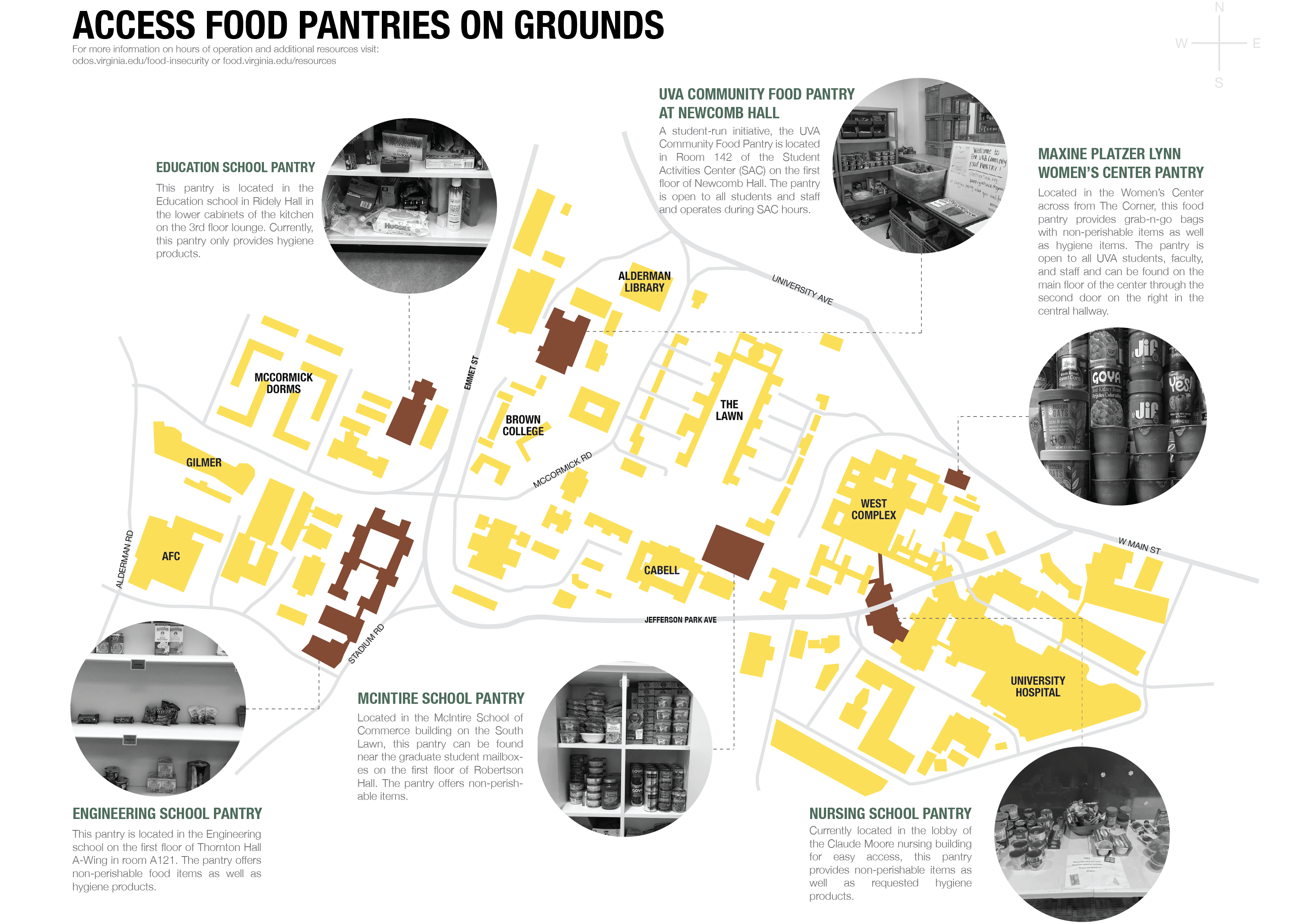 More UVA food security information: https://studentaffairs.virginia.edu/subsite/odos/food-insecurity