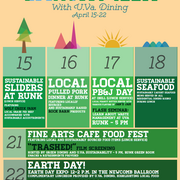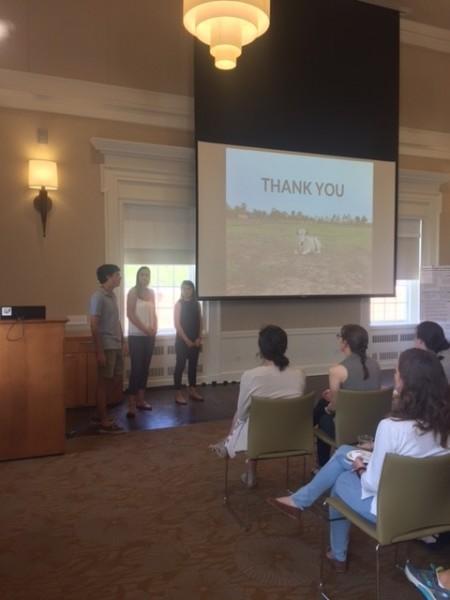 The UVA Food Collaborative held its annual Student Research Symposium in conjunction with the Office for Sustainability's Earth Week Expo. Students from various disciplines across grounds as well as alumni working professionally in food-related fields presented their research on an array of topics including UVA's nitrogen footprint, food justice in Charlottesville, and expanding communication initiatives for farmers in Cambodia.
Below are more detailed abstracts of the topics covered.
Enhancing Vertical Communication and Local Farmer Involvement in Administrative Affairs with CEDAC
Avery Moyler, Maggie Grantz, Hunter Hewlett
The Cambodian Center for Study and Development in Agriculture (CEDAC) is an organization facilitating farmer-led research and community development in Cambodia. Our research team worked with local farmers and CEDAC administrators to identify barriers to farmer-administrator communication both in the field and in CEDAC offices. The team spent their time in Phnom Penh and various neighboring provinces visiting affiliated farm cooperatives, learning from successful CEDAC farmers, and gathering crucial anecdotal data from varied CEDAC perspectives. Through observation of communication flow and analysis of interviews, the team helped facilitate vertical communication within CEDAC to enable the organization to expand its capacity to meet farmers' needs. Additionally, the team was able to provide CEDAC administrators with a preliminary analysis of the current state of their solidified and emerging farmer programs, as well as suggest a tangible approach to ease identified communication challenges.
Reduction Strategies for Institution N Footprints: A Case Study at the University of Virginia
Libby Milo
Reactive nitrogen is both essential and detrimental to life on Earth. While nitrogen is a key component of protein, it is also a pollutant that can cause climate change, eutrophication, and more. The University of Virginia (UVA) is the only university that has approved a nitrogen footprint reduction goal. This goal was approved by UVA's governing board in 2013 and aims to reduce the University's nitrogen footprint by 25% below 2010 levels by 2025. UVA has calculated its footprint for 2010 and 2014 and will continue to complete a benchmark calculation every four years. The UVA N footprint group and the Office for Sustainability have determined a number of scenarios to reduce the University's N footprint. Since the 2010 baseline year, UVA's N footprint has changed from a total of 468 to 444 MT N; the total reduction needs to be to 351 MT N. This project examines the potential of additional scenarios that could be implemented to reach this goal. UVA hopes to serve as a model for other universities and institutions that want to reduce their environmental impact by setting and achieving N reduction goals.
Renewable Energy, Agriculture, and Land Availability in the United States
Isabel Getz
To date, the United States has not succeeded in adopting a renewable energy system. Renewables require vast tracts of land in order to produce enough energy to compete with fossil fuels. Meanwhile, agriculture takes up nearly half the land area of our country. However, only a fraction of this land is used to grow food that is directly eaten by people, and the rest is used to grow feed for livestock. Previous research has shown animal agriculture to be highly unsustainable, from its large contributions to annual greenhouse gas emissions to its significant toll on both our agricultural land and human health. In this dilemma lies a solution: a renewable energy system would require an enormous amount of land, while a more sustainable agricultural system would use far less. This paper suggests a new system of land-use in the U.S. that converts land from livestock-feed production to renewable energy production.
Charlottesville Farmers Market Research Team 
Gabby Levet, Allison Arnold
The Cville Farmer's Market Research team has been assembled to carry out research for the farmer's market managers to use to improve the market. Research includes crowd counts and customer surveys to get a gauge of how many people are attending the market as well as information about the customers. We will be completing research throughout the spring, summer, and fall! Students and community members are welcome to volunteer! Incentives and parking vouchers are available for all volunteers.
The Making of an Argument:  Articulating our Historical Narrative of Food Justice in Charlottesville
Shantell Bingham
This presentation doesn't only articulate food justice from a technical standpoint (cost of foods, systemic barriers to access such as location and transportation), but rather it digs deeper to the social fabric which dictates access by restructuring the urban landscape and economic class (history of redevelopment, destruction of African-American economic centers such as Vinegar hill, school integration, living wage etc.). This restructuring of society predominantly based upon beliefs of social hierarchy, creates gaps in access to healthy foods which are then systematically filled through social programming such as SNAP or CHIP, and supported by hunger alleviation organizations such as Charlottesville Area Food Bank, Loaves and Fishes etc. The presentation will show the intersectionality of our local food systems, and give a solid definition of food justice while exposing the history of Charlottesville.
Healthy Hometown:  Local Food in Palmyra, VA
Kelsey Schlein
In an ever centralizing and urbanizing age with hip downtown farmers markets, farm to table restaurants in chic up and coming neighborhoods, and the rise of urban gardens the local food movement in small rural towns is often overlooked.  This project turns the local food lense on a nearby small town, Palmyra, Va, that supports a CSA, a community Garden, a local grocery store, two seasonal farm stands, and a weekly farmers market all within three square miles and with a population of less than ten thousand. The prevalence of food availability in Palmyra resulted in the town scoring a 9 out of 10 on the Food Environment Index.  In addition to having high accessibility to food,  Palmyra has a high obesity rate exceeding 30%.  Despite the availability of fresh foods throughout the year, Palmyra residents are eating poorly and are lacking adequate exercise.  This project explores how the community can capitalize upon its local food economy through educational programs and policies that impact food served in public schools.